Mezhdunarodnyi kollektiv uchenykh, kuda vkhodili matematiki iz ITF imeni Landau, poluchil prostye i effektivnye priblizhennye formuly dlya resheniya nelineinogo uravneniya Shredingera i proveril ikh «deistvennost'» na praktike – v opticheskikh eksperimentakh. Novaya rabota pomozhet uchenym ob'yasnit' odno ochen' neobychnoe fizicheskoe yavlenie: «dezhavyu» nekotorykh nelineinykh sistem – to est' ikh sposobnost' vozvrashchat'sya v iskhodnoe sostoyanie. Uchenye rasschityvayut, chto eti raboty pomogut ponyat' prichinu poyavleniya v okeane gigantskikh voln-ubiits. Issledovanie opublikovano v zhurnale Physical Review X.
Ob'ektom issledovaniya avtorov raboty byli nelineinye sistemy. V otlichie ot lineinykh, takie sistemy nevozmozhno opisat' lineinymi uravneniyami, a ikh vazhneishei kharakteristikoi yavlyaetsya otsutstvie printsipa superpozitsii. Etot printsip postuliruet, chto reaktsiya sistemy na lyubuyu kombinatsiyu vneshnikh vozdeistvii ravna summe reaktsii na kazhdoe iz etikh vozdeistvii po otdel'nosti. Nepodchinenie printsipu superpozitsii privodit k tomu, chto povedenie sistemy stanovitsya kontrintuitivnym i slozhnopredskazuemym.
Pri etom nekotorye nelineinye sistemy imeyut tendentsiyu k vozvrashcheniyu v iskhodnoe ili pochti iskhodnoe sostoyanie – to est' v nikh nablyudaetsya svoeobraznoe «dezhavyu». Eto svoistvo bylo vpervye obnaruzheno v 1955 godu v chislennom eksperimente, provedennom v Natsional'noi laboratorii v Los-Alamose, i poluchilo nazvanie paradoksa Fermi — Pasta — Ulama — Tsingu – v chest' obnaruzhivshikh ego uchenykh. Issledovateli smodelirovali prostuyu sistemu, sostoyashchuyu iz neskol'kikh massivnykh ob'ektov, svyazannykh gibkimi soedineniyami – tochno tak zhe ustroena, naprimer, kristallicheskaya reshetka. «Esli gibkoe soedinenie podchinyaetsya zakonu Guka, to sistema yavlyaetsya strogo lineinoi. V nei est' nekotoroe kolichestvo voznikayushchikh kolebanii – mod, – rasskazyvaet doktor fiziko-matematicheskikh nauk, vedushchii nauchnyi sotrudnik sektora sovremennykh problem matematiki ITF imeni L.D. Landau Petr Grinevich. – V lineinykh sistemakh net obmena energii mezhdu modami, i v kazhdoi mode sokhranyaetsya iskhodnoe kolichestvo energii. Zatem uchenye vveli v sistemu nelineinost', ozhidaya, chto energiya ravnomerno raspredelitsya po vsei sisteme za schet obmena mezhdu modami, i sistema budet «zabyvat'» svoe iskhodnoe sostoyanie. Odnako vyyasnilos', chto eto ne tak, i sistema vozvrashchaetsya pochti k iskhodnomu sostoyaniyu».
V nachale 1970-kh paradoks Fermi — Pasta — Ulama — Tsingu poluchil ob'yasnenie: bylo pokazano, chto podobnye sistemy blizki k integriruemym. Etim terminom nazyvayut osobye sistemy, obladayushchie bol'shim kolichestvom vysshikh simmetrii. «Nesmotrya na to, chto eti sistemy dovol'no slozhno ustroeny, v nikh est' mnogo zakonov sokhraneniya, poetomu veroyatnost' vozvrashcheniya v iskhodnoe sostoyanie dlya takikh sistem vyshe i mozhno delat' dovol'no tochnye vyvody ob ikh povedenii, – ob'yasnyaet Grinevich. – Khoroshaya analogiya – korobka peredach. Chtoby delat' predskazaniya o tom, kak ona budet rabotat', ne obyazatel'no razbirat'sya v ee detal'nom ustroistve. Dostatochno fakta, chto ona podchinyaetsya «zolotomu pravilu» mekhaniki: proigrysh v skorosti daet vyigrysh v sile, a vyigrysh v sile – proigrysh v skorosti. Eto oznachaet, naprimer, chto korobka ne sposobna uvelichit' moshchnost' dvigatelya».
Kak polagayut uchenye, integriruemye i blizkie k nim sistemy mogut byt' ispol'zovany dlya togo, chtoby ob'yasnit' poyavlenie gigantskikh voln-ubiits vysotoi do 25 metrov. Oni voznikayut v otnositel'no spokoinom okeane kak budto iz nichego i predstavlyayut ser'eznuyu opasnost' dlya sudov i razlichnykh sooruzhenii. «Segodnya uchenye polagayut, chto eto nelineinyi effekt, svyazannyi s modulyatsionnoi neustoichivost'yu, – govorit Grinevich. – V okeane est' raspredelenie voln i iz-za neodnorodnostei etogo raspredeleniya te zony, gde voln okazyvaetsya bol'she, kak by prityagivayut k sebe energiyu. V itoge v kakoi-to moment v odnom meste rozhdayutsya volny bol'shoi amplitudy. V 1968 godu sotrudnik ITF imeni Landau akademik Vladimir Zakharov pokazal, chto effektivnoi model'yu dlya opisaniya modulyatsionnoi neustoichivosti voln v okeane yavlyaetsya nelineinoe uravnenie Shredingera».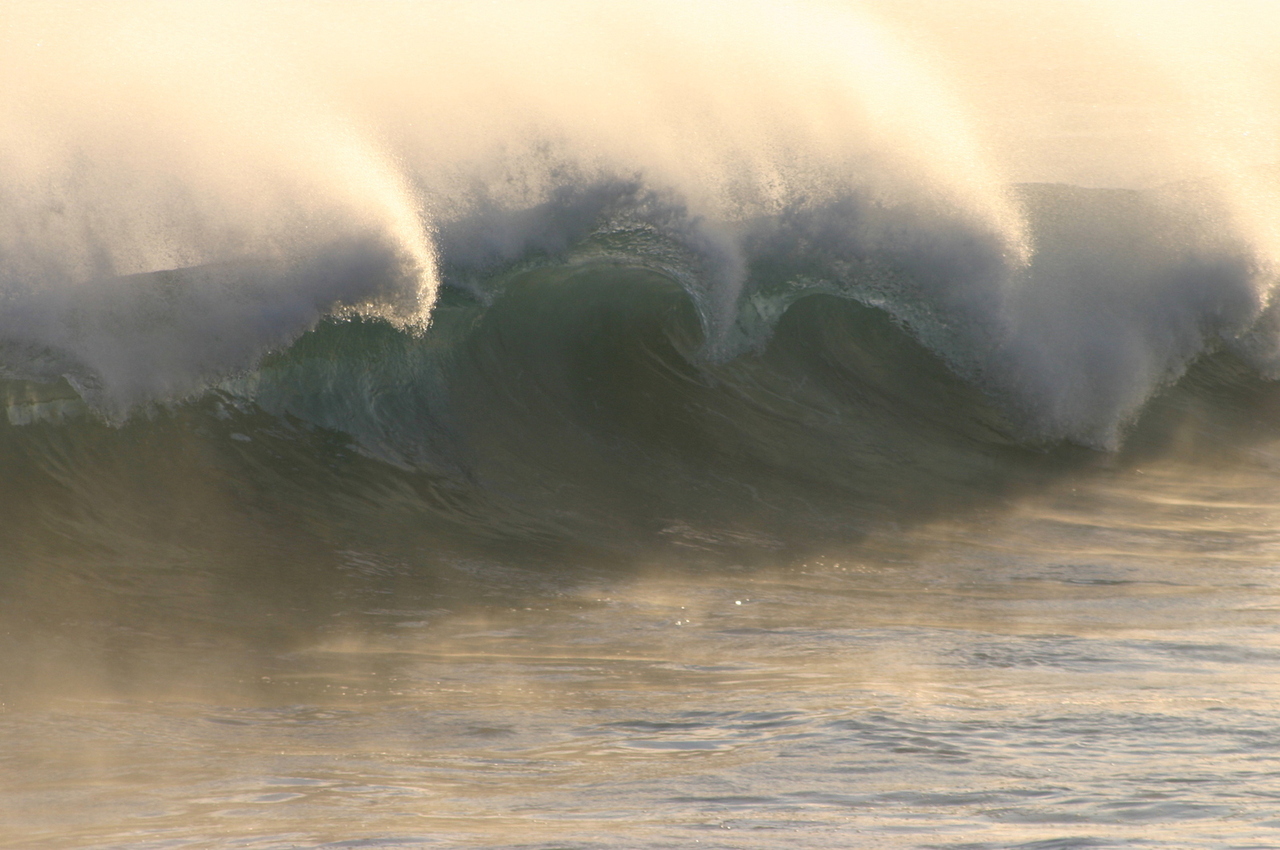 Foto: FreeImages
Podobnye anomalii – to est' povtornoe vozniknovenie anomal'nykh voln – vstrechayutsya ne tol'ko v okeane, no takzhe, naprimer, v opticheskikh voloknakh, gde oni privodyat k sboyam v peredache informatsii. Odnako nablyudat' i issledovat' vozvrashchenie anomal'nykh slozhno, tak kak iz-za rasseyaniya i drugikh vneshnikh protsessov vozniknovenie novoi povtoryayushcheisya anomal'noi volny mozhet zanimat' ochen' mnogo vremeni.
V novoi rabote avtory skonstruirovali i issledovali opticheskuyu nelineinuyu sistemu, v kotoroi odna i ta zhe anomal'naya volna vozvrashchalas' neskol'ko raz. Dlya ee sozdaniya uchenye ispol'zovali nelineinyi opticheskii kristall, koeffitsient prelomleniya kotorogo zavisit ot intensivnosti sveta. «Bolee osveshchennye uchastki kristalla sobirayut padayushchii svet, rabotaya kak fokusiruyushchie linzy. Te, kotorye osveshcheny slabee, vedut sebya podobno rasseivayushchim linzam i oslablyayut svet, – ob'yasnyaet Grinevich. – Chem yarche stanovitsya kakaya-to zona, tem bol'she sveta ona prityagivaet. V itoge iznachal'nye nebol'shie neodnorodnosti v kristalle mnogokratno usilivayutsya – imenno tak proyavlyaetsya modulyatsionnaya neustoichivost'».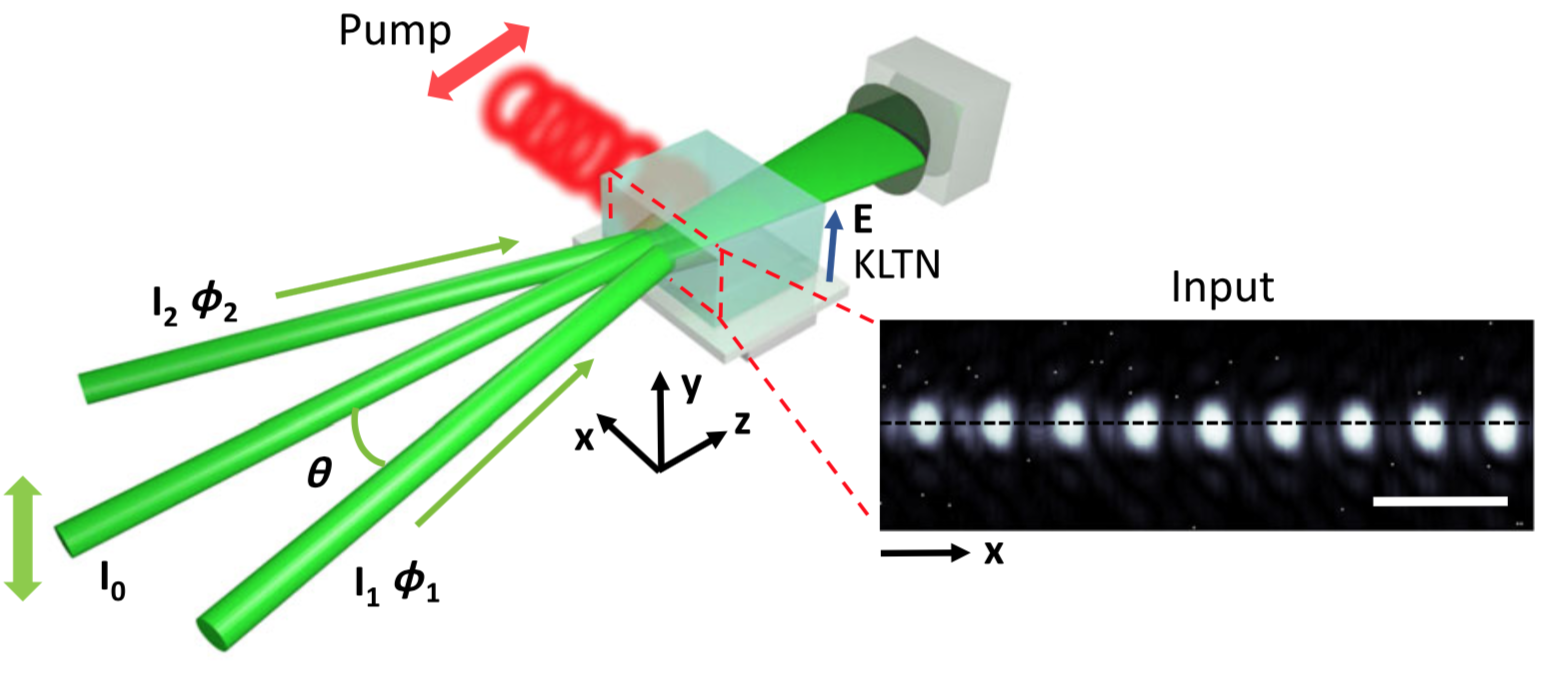 V eksperimente na kristall podavali tri lucha: tsentral'nyi i dva bokovykh, kotorye davali neodnorodnosti, privodivshie v itoge k razvitiyu neustoichivoi anomal'noi volny. Dopolnitel'nyi lazer drugoi chastoty obespechival, chto sistema rabotala v pochti integriruemom rezhime. Izobrazhenie avtorov raboty.

Eksperimentatoram udalos' trizhdy nablyudat' vozvrashchenie anomal'noi volny. Teoreticheskaya chast' gruppy, v kotoruyu vkhodili Petr Grinevich i ital'yanskii matematik iz rimskogo universiteta «Sapientsa» Paolo Santini, vyveli priblizhennye formuly, kotorye ochen' tochno predskazali nablyudaemye rezul'taty. «Nashe reshenie opiraetsya na algebro-geometricheskii podkhod, vpervye predlozhennyi sotrudnikom ITF imeni L.D. Landau akademikom Sergeem Novikovym. Vozvrashchenie anomal'noi volny svyazano s tem, chto sistemy, gde nablyudaetsya eto yavlenie, podchinyaetsya zakonam, kotorye khorosho opisyvayutsya nelineinym uravneniem Shredingera, kotoroe yavlyaetsya integriruemym. Pervymi integriruemost' nelineinogo uravneniya Shredingera pokazali Vladimir Zakharov i eshche odin sotrudnik ITF imeni Landau Aleksei Shabat. Ego primenenie dlya opisaniya razlichnykh fizicheskikh zadach issleduetsya ochen' aktivno, no, kak okazalos', nuzhnykh eksperimentatoram formul ne bylo. Izvestnye formuly libo opisyvali spetsial'nye situatsii, libo byli slishkom slozhnymi. My ponyali, kak mozhno poluchit' priblizhennye, no prostye formuly», – rasskazyvaet Grinevich.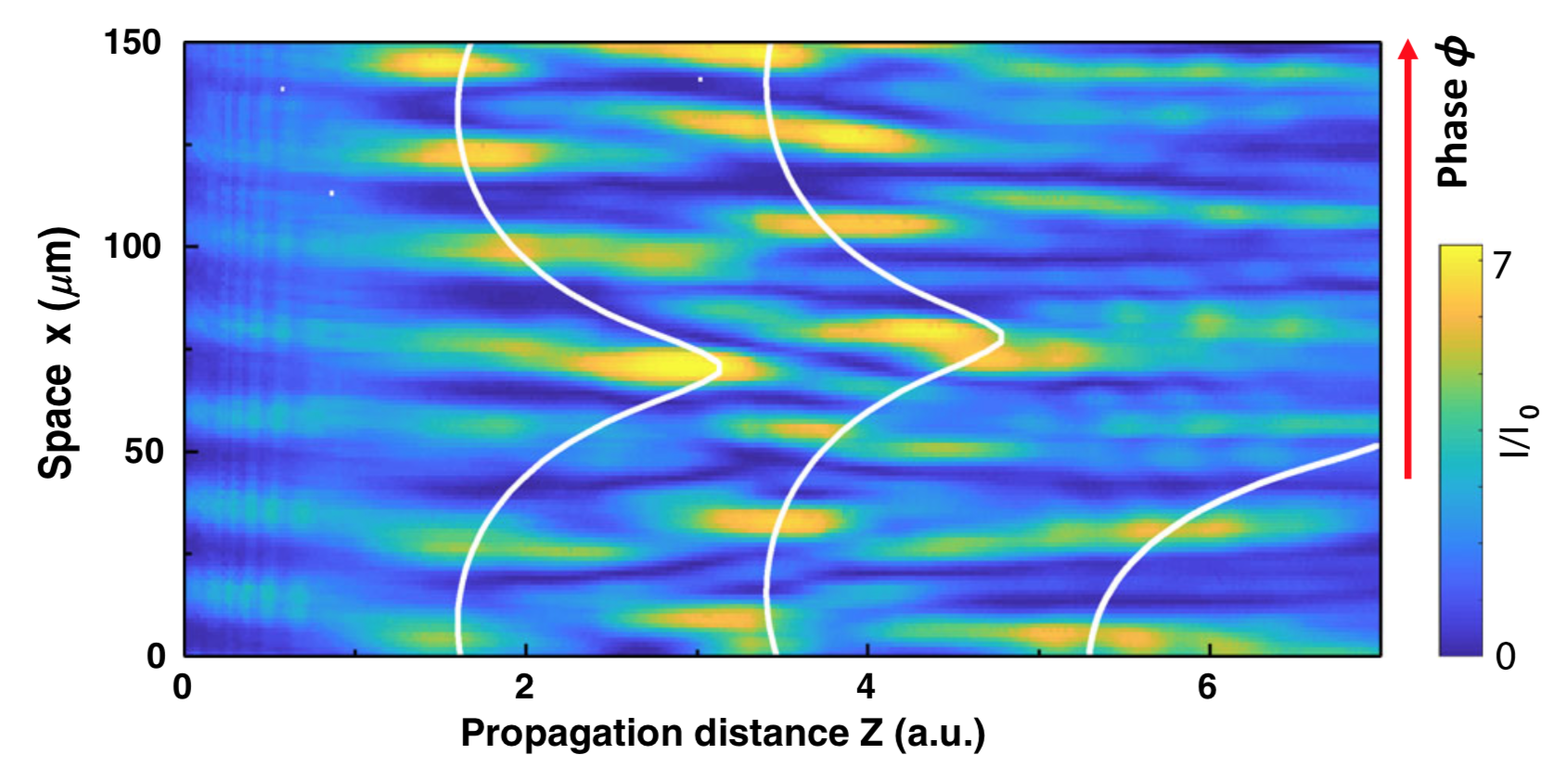 Nalozhenie teoreticheski predskazannykh krivykh, opisyvayushchikh moment pervogo poyavleniya anomal'noi volny i ee povtora, na eksperimental'nye dannye. Tsvetami pokazany intensivnost' volny, zheltyi sootvetstvuet maksimal'nym znacheniyam. Izobrazhenie avtorov raboty.

Vyvedennye uchenymi formuly pomogut luchshe ponyat', kak poyavlyayutsya anomal'nye volny – nevazhno, v optovolokne, v okeane ili v drugikh nelineinykh sistemakh. «Seichas povtoryayushchiesya anomal'nye volny meshayut rabotat' optovoloknu, no v perspektive, znaya, kak oni razvivayutsya, mozhno ispol'zovat' eto yavlenie dlya uluchsheniya ego kharakteristik», – polagaet Grinevich. Krome togo, uchenye predpolagayut, chto vyvedennye imi formuly posle nebol'shoi dorabotki budut poleznymi dlya opisaniya povedeniya kondensata Boze — Einshteina, makroskopicheskoi kvantovoi sistemy, predstavlyayushchei soboi okhlazhdennye pochti do absolyutnogo nolya bozony. Pri ochen' nizkikh temperaturakh pochti vse atomy «provalivayutsya» na minimal'nyi energeticheskii uroven' i stanovitsya vozmozhnym neposredstvenno nablyudat' kvantovye effekty. Issledovanie kondensata Boze — Einshteina pomogut fizikam luchshe ponyat' prirodu kvantovykh yavlenii.
Dogovorit'sya ob interv'yu s uchenymi, kommentariyakh i zaprosit' dopolnitel'nuyu informatsiyu, v tom chisle polnyi tekst stat'i, mozhno po adresu: press@itp.ac.ru